Interview with F i b o n a c c i
Hey!
Today I'm presenting you an interview I did with F i b o n a c c i about the album and himself. But first I'd like to give you a short update about the release.
First, we planned to release the album in early/mid December. But we (DeepTape Records art director Tristan and I) wanted to make everything concerning the release as good as possible. That included the design of the cassette, the j-card and the cassette-shell itself. Also, we put many hours in thinking about an aesthetic/design that represents the label at it's best, which also influenced the design of the release. Because of this the release now got delayed until mid/late February.
At the moment a sample-cassette is made by our manufacturer. As soon as it arrives and everything is fine the production of the whole release will start.
I want to say thank you for your patience. I hadn't expected how much work it takes to start a label but it was much fun until now and I'm very excited about the future of DeepTape Records.
Now we're coming to the interview. Take a listen to the album and have fun reading it!
When I died, I dreamed by F i b o n a c c i
---
Julian: Hey F i b o n a c c i, It's a pleasure to talk to you – How are you?
F i b o n a c c i: Hey, I am doing good as always.
Julian: Nice to hear. I'm very happy that you're the first release on my label. What are your thoughts about DeepTape Records and to be the first release?
F i b o n a c c i: I am very excited and honoured to be the first release from DeepTape Records. As soon as I heard about the label I instantly fell in love with the name and your plans for it. I can see this label doing some very great things in the future and I'm beyond excited to be the first release.
Julian: Thank you for these kind words! Where do you come from? Can you tell us a bit about the area you live in and if it counterparts your music?
F i b o n a c c i: I was born and raised in Canada. I wouldn't say that the area I live in effects my music, but the changing of the seasons definitely changes my mood and what I am listening to.
Julian: That's cool! How did you came up with the name and the project behind "F i b o n a c c i"?
F i b o n a c c i: I decided to call myself F i b o n a c c i because I am very influenced and interested in the Fibonacci sequence. Everything is the Fibonacci sequence. The sequence is the code for life and to me that is amazing. It is everywhere, yet we don't seem to acknowledge it. I correlate Fibonacci with numbers (as most would) and to me, numbers are very interesting. Did you know that every time you shuffle a deck of cards properly, you have most likely created a brand new sequence of cards that no one has ever created before. Although the number of possible permutations of 52 cards is not endless, when you break down how many options there are and how long it would take you to complete every single sequence of cards, the number seems endless.
Julian: Wow, that is an amazing fact and a very interesting way how you came up with your name. What is your musical background? Do you have a musically education and do you play any instruments?
F i b o n a c c i: I first gained interest in music when my parents bought me a guitar for christmas when I was around 10 years old. I started learning songs from bands like The Doors and Led Zeppelin. From there I took guitar lessons for about a year and eventually started composing my own songs on Guitar Pro. Over the years I have learned the basics of playing piano and drums, which most musicians seem to do.
Julian: What are your influences?
F i b o n a c c i: My main influences that inspire my music are Pink Floyd and T e l e p a t h. Pink Floyd to me is a psychedelic experience every single time I listen to a song from them, the same goes for T e l e p a t h.
Julian: I definitely hear these psychedelic influences to your tracks which leads me to a question that came directly to my mind as I first read your album title, it's called "When I died, I dreamed" – why do you choose that title and is there a message behind it? I'm sure you thought of something when you produced the songs for this album.
F i b o n a c c i: DMT is said to be a naturally occurring chemical that is released in your brain and the reason you dream at night. I have read that when you die, your brain releases massive amounts of DMT. I have come to the hopeful conclusion that when you die, you dream, forever.
Julian: Do you have a favourite song of the album?
F i b o n a c c i: I wouldn't say that I have an absolute favourite song from this album, but I would say that "Ive been here before" is a song that makes me think deeply.
Julian: For those who are not so familiar with this kind of music: What type of genre is your album?
F i b o n a c c i: I would say the genre is ambient/drone. I don't only produce this kind of music, but when I do I really enjoy making it. To me, the sound of it can be so simple and repetitive, but when I listen, so many memories and thoughts come rushing into my head. I think everyone should listen to some ambient drone music.
Julian: Yeah that's right, ambient drone music is definitely something really deep everyone should listen to atleast once. I know you also produce Vaporwave under your alias F i b o n a c c i – Do you have any projects besides F i b o n a c c i and what are your plans for the future?
F i b o n a c c i: I don't have any serious projects besides F i b o n a c c i at the moment. I have some fun with an alias I made called Bill Bugatti, but that is mostly for fun. My plan for the future is to keep releasing albums under F i b o n a c c i and maybe if I find some extra time, start a Slushwave label.
Julian: That's cool! I'm really looking forward to the things you will show us in the future. Besides making music, what music are you listening to?
F i b o n a c c i: T e l e p a t h is definitely my go-to for listening. I am also a huge fan of metal, like The Devil Wears Prada but you can also catch me listening to smooth jazz. Other people/bands, I listen to include: Jack Johnson, David Gilmour, The Band, Little Feat, Ween, 311.
Julian: Cool! What is your favourite track/artist at the moment?
F i b o n a c c i: Favorite artist at the moment is definitely T e l e p a t h. My favourite track from him is 今夜、私の愛 from the album 向かい合って
Julian: Thank you for taking time for this interview. Do you have something you would like to say to our readers?
F i b o n a c c i: Enjoy my album and follow DeepTape Records! This is going to be a special label with many great things to come and I am thrilled to be the first release. To everyone that has supported me, I am forever grateful. I will love you all Forever, always, and in the afterlife.
---
Last but not least I'm proud to present you a first look on the cassette: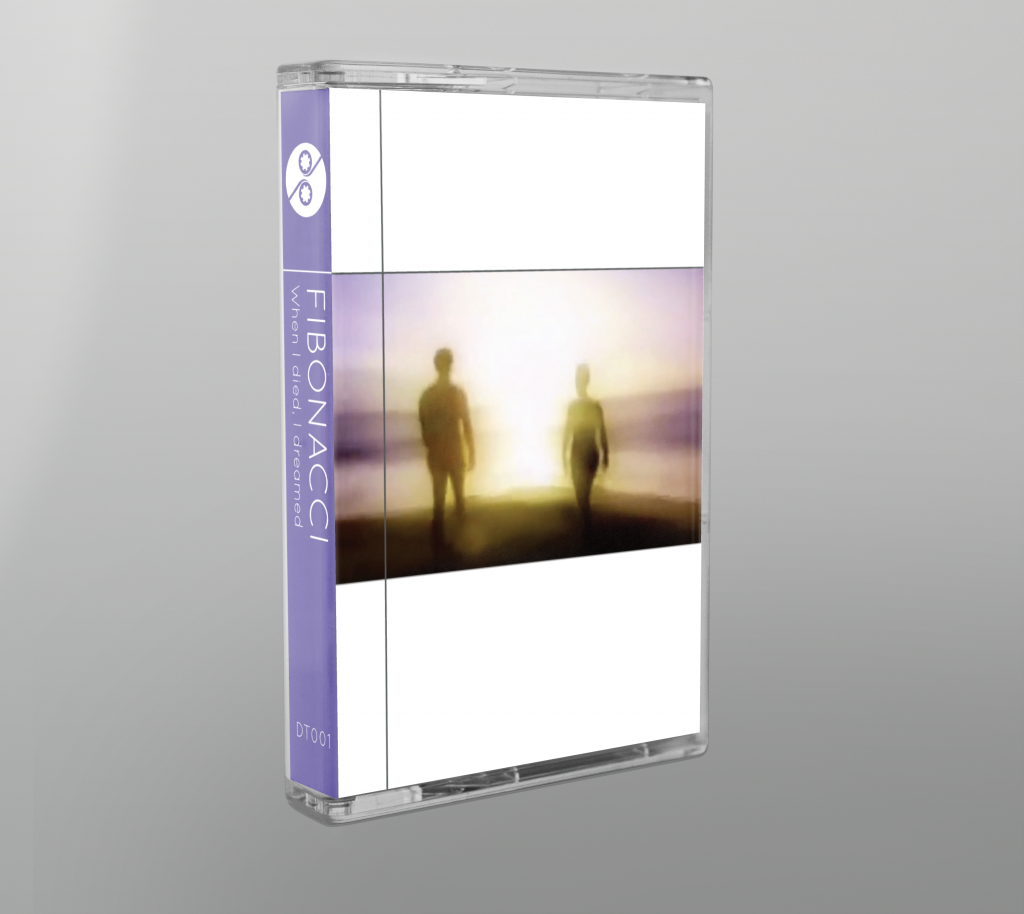 Thank you for reading this blog post and feel free to follow DeepTape Records on Twitter or Instagram to always be up to date.
Till next time!